Periodontics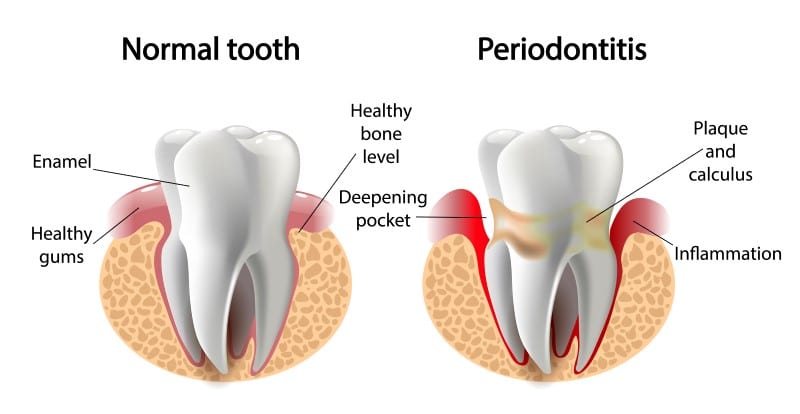 Periodontics is the dental specialty focusing exclusively in the inflammatory disease that destroys the gums and other supporting structures around the teeth. A periodontist is a dentist who specializes in the prevention, diagnosis, and treatment of periodontal, or disease, and in the placement of dental implants. Periodontists receive extensive training in these areas, including three additional years of education beyond dental school. As specialists in periodontal disease, they are experts in the latest techniques for diagnosing and treating periodontal disease. They are also trained in cosmetic periodontal procedures.
Periodontists treat cases ranging from mild gingivitis to more severe periodontitis. Periodontists offer a wide range of treatments, such as scaling and root planing (the cleaning of infected root surfaces), root surface debridement (the removal of damaged tissue), and regenerative procedures (the reversal of lost bone and tissue). When necessary, periodontists can also perform surgical procedures for patients with severe gum disease. Additionally, periodontists are trained in the placement, maintenance and repair of dental implants.
What Will My First Visit Be Like?
During your first visit, the periodontist usually reviews your complete medical and dental histories. It's extremely important for the periodontist to know if you're taking any medications or being treated for any condition that can affect periodontal care, such as heart disease, diabetes, or pregnancy.
Your periodontist will then examine your gums for any gum line recession, assess how your teeth come into contact with each other when biting, and check to see if any of your teeth are loose. Your periodontist will further evaluate the health of your gums by placing a small measuring instrument (called a probe) in the spaces between your teeth and gums (called periodontal pockets) to measure the depth of those spaces. X-rays may also be taken to observe the health of the bone below your gum line.
Why Might I Be Referred to a Periodontist?
If your general dentist refers you to a periodontist, it's simply because the periodontist has the special skills, knowledge and experience to provide you with the type of periodontal treatment or implant procedure you need.
Dental care for children is usually neglected despite the fact that it needs the most attention, considering their sweet tooth and eating habits, in many cases. Children also need to be supervised when they are flossing or brushing their teeth. They have just begun to care for themselves and are still very early in their learning phase.
Find below answers to some frequently asked questions related to paediatric or child care, in dentistry.
Should I Be Concerned if I'm Referred to a Periodontist?
Quite the contrary! You should feel good that your general dentist wants you to receive the best care possible, and confident that you'll be treated by a specialist who has four years of college education, four years of dental education, and at least three years of advanced training in periodontal dentistry and dental implants. What's more, the chances are that your periodontist has done hundreds, if not thousands, of procedures similar to the one you'll be having done.